You're viewing: Home >>


Tungsten wire mesh heater
Hot-zone designing and technology is including materials and fabrication methods for heating elements, shields and retorts. Temperature is important. Furnace temperatures, including operating temperature, maximum temperature, temperature ramp-up rate(s) and thermal uniformity, are essential to arrive at the optimum furnace design. Operating temperature affects heating element, shield and retort materials of construction, and power requirements and control-system design.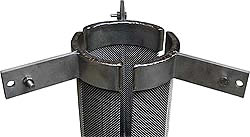 Hot zone material choices generally focus on the refractory metals tungsten, tantalum and Molybdenum because of their high-temperature characteristics. Metal heating elements are fabricated from strip, sheet, wire and rod depending upon the configuration of the hot zone. Heat shields are necessary to contain the heat and provide thermal stability.(tungsten wire mesh heater)
At higher temperature ranges (2000 to 3000 C for example), creep strength of work support and heating elements also is a major engineering concern. The heating element, which operates at a higher temperature than any other component in the system, is the most critical part of the system in terms of material choice. Heating element design takes into account thermal capability, mechanical stability, configuration and service life. (tungsten wire mesh heater)
Tungsten is used in the form of a weave or mesh design. Weave radiation panel elements offer superior mechanical formability, strength, creep properties and ability to hold their shape for long service life. Tantalum and molybdenum usually are fabricated from sheet and strip for lower temperature service, but can be fabricated from BreWeave or mesh for longer life.
At Chinatungsten Online, we try our best to explore new products with high quality and has formed the capacity to manufacture series tungsten wire mesh heater products.If you would like to learn more of the latest prices and news of tungsten in China, please visit our web site of http://www.chinatungsten.com/Tungsten-Products/Tungsten-Heater.html for the details.
More high performance of tungsten wire mesh heater is listed as:
- High mechanical and thermal stability
- Excellent uniformity
- Low creep deformation
- High surface loading
- Exact resistance
- Long life times
If you have any interest in our products, please feel free to contact us by email: sales@chinatungsten.com or by telephone:86 592 5129696.