You're viewing: Home >>



Tungsten's unique properties as a high performance material, including a melting point of 3410° C, low vapor pressure at elevated temperatures and low coefficient of thermal expansion, make tungsten rod of value in a variety of high temperature products and processes. Tungsten rod heater is used as High-temperature heat source and High-temperature structure accessory.

Tungsten rod heater mainly application as manufacture electric light source and electric vacuum accessory. It can be used for make Electrical contact for stirring purposes in rare earth metals smelting and for making tungsten contacts and parts in electrical light sources making.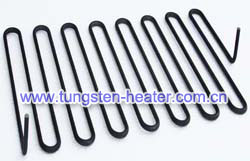 Surface finish of tungsten rod:
Black - Surface is "as swaged" or "as drawn"; retaining a coating of processing lubricants and oxides.
Cleaned - Surface is chemically cleaned to remove all lubricants and oxides.
Ground - Surface is centerless ground to remove all coating and to achieve precise diameter control.