You're viewing: Home >>The configurations of heater


Tungsten heater configurations
Heater designs have varied considerably since 1927 when the first indirectly heated cathodes were introduced. At that time, a hairpin tungsten heater was supported by an extruded ceramic insulator, surrounded by a nickel sleeve.
The detail infomation of tungsten heater configurations can be find as following: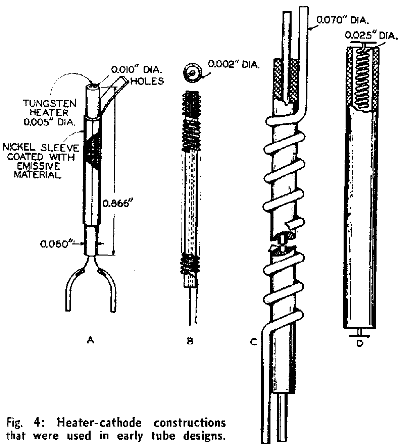 Fig4a shows a heater common to the early detector- and amplifier-type tubes. This heater operated from a 2.5 volt supply. It had a warm-up time fo 20 to 30 seconds. Fig4b shows a 2 mil wire spirally wound on an alumina insulating tube. The return lead passed through the center of the insulating rod. Usually the tungsten wire was covered with an outside alumina coating.
Fig4c illustrates a 70 mil diameter tungsten wire wound around an alumina insulator. A molybdenum rod passing through the center of the tube acts as a supporting rod. Such tungsten heaters were designed to operate at 5 volts and 60 amperes. Fig4d shows a 25 mil diameter spiral heater wire supported inside and extruded insulating tube.
All of these heaters were made in various sizes to meet different heater-power requirements. The ceramic insulating sleeves were usually made of alumina, magnesia, thoria, beryllia, or electrical porcelain. Many factors, such as high cost, contaminants in the ceramics, and slow warm-up time, resulted in the decline of these heaters.

If you have any interest in our products, please feel free to contact us by email:sales@chinatungsten.com or by telephone:86 592 5129696.